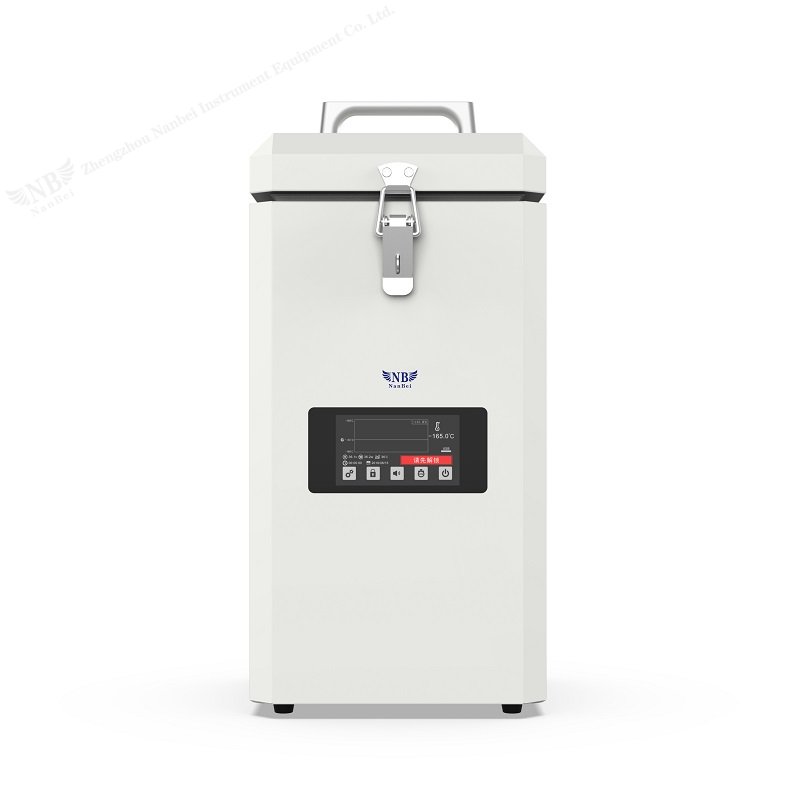 1.8L -80℃ Ultra Low Temperature Freezer
Brand:NANBEI
Model:NBHL-1.8L -80℃ Ultra Low Temperature Freezer
Application:Laboratory,hospital,storage of blood vaccines and medical drugs
-80℃ Portable Ultra-low temperature freezer


Application:
Suitable for use in blood banks, hospitals, health and disease prevention systems, research institutions, colleges & universities, the electronic industry, biological engineering, laboratories in colleges & universities, military enterprises, deep-sea fishing companies, etc.

Features:
Intelligent temperature control
.High defifinition digital display with the display accuracy reaching 0.1℃.
·The inner temperature can be set from - 40 ℃ to -80 ℃.

Refrigeration System :
.New Smart refrigeration design with energy-effiffifficient CFC-free refrigerant
·Portable design which can both use 12V vehicle power supply and 220Vhousehold power supply.
·The foaming body and accessory device for heat preservation use soft EVA blind hole foaming materials for better cooling performance.

Security System:
.With multiple security alarms including high temperature alarm, low temperature alarm, sensor fault alarm, power outage alarm which can preserve samples in a safer way.
·The protection of power-on delay and power-offff interval ensure the safety operation.
·Keyboard with lockout system and keyword protection prevent from adjusting operation parameters without permission.
·The double-locking design makes sure the safety sample storage.

Human-oriented Design:
The cabinet is made of high quality structural steel plate with smart volume, which can be directly placed on the test bench for easy access to samples.
Simple and convenient control system and cabinet handle for easy operation


Technical data:
Model

capacity

Temperature

External Size (WDH)

Internal Size(WDH)

Input Power (W)

Weight
(N.t )

NB-HL1.8

1.8 liters

-40~-80℃

245x282x496mm

154x134x87mm

60

12
Picture: